San Ramon Valley, CA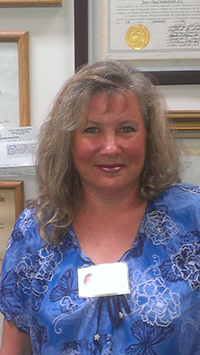 Cheryl Stokes
Hello, I'm Cheryl Stokes, Cognitive Connection's San Ramon Valley Mobile Affiliate office, and I'm excited to bring neurofeedback to your home.
I graduated from Heald College with a Medical Assisting degree and became a Certified Medical Assistant. While at Heald, I was chosen by Kaiser Permanente to complete my externship training hours in the Adult Medicine department. During my clinical rotation hours I assisted a 6 physician team and a busy office. After graduation, I pursued a phlebotomy license to add to my skills in the health care field. I was able to use my health care education to assist clients as a Home Health Care Assistant throughout the San Ramon Valley. While working in the home health care field I was introduced to the healing benefits of neurofeedback therapy. I became interested in and pursued an education in Neurofeedback, Biofeedback, and Cognitive Rehabilitation and the benefits it has to offer not only to the elderly but all individuals.
I have trained with Dr. Lise Delong at Cognitive Connections and I am a Certified Neurofeedback Technician working with Zengar's Neuroptimal computer. I have had the opportunity to complete an externship with Dr. Delong at her Walnut Creek Cognitive Connections office, providing clients with a professional, nurturing compassionate neurofeedback experience. I am dedicated to providing top quality client care and assuring their well being. After seeing many positive results using neurofeedback, I am excited to bring my gentle touch, compassionate demeanor, and professional neurofeedback skills to communities and individuals who are seeking these benefits. I am making neurofeedback training readily available to those who may have difficulty getting out of the house or simply do not wish to travel to our Walnut Creek office. With my mobile services I can bring Cognitive Connection's neurofeedback services to you in the comfort and relaxation of your own home. Neurofeedback provides a variety of benefits, such as; relieving stress and anxiety; relieving sleep problems, helping you to awake with your mind feeling clearer, more focused and your body feeling refreshed and energized; assisting with pain management; helping you to achieve peak performance in your field; and even helping to improve your golf game. The list goes on. To learn more about neurofeedback benefits go to www.cognitive-connections.com.
Providing a high quality client care experience really resonates with the type of care that I aspire to give. I look forward to being able to assist you with your neurofeedback needs and bring you to a happy, healthy, thriving life, and to be the best you.
Cheryl Stokes
www.cognitive-connections.com
This email address is being protected from spambots. You need JavaScript enabled to view it.
(317) 888-7420
(866) 903-1648 Fax